Latest Eternal news
#Eternal20 As you can see, this section is no longer being actively maintained. I don't currently plan to update the news on this site.
Please send me any Eternal-related news & information you have, so I can share it with the readers of this page. Also don't forget to check out the latest tour news!
28-Oct-98: Uncertain future as Kéllé reportedly forced out
Doubts about how the road ahead lies for Eternal grew stronger than ever today, as reports emerged that sisters Easther and Vernie have 'sacked' third band member Kéllé over the way she dresses.
Today's Sun newspaper, in a report echoed by MTV, BBC's Newsround, PA News and Capital FM, claimed Kéllé was told by the other band members that she no longer fitted in with the group's image.
As reported on this site (8th March 1998), there have been stories of alleged tension between Kéllé and the Bennett sisters throughout most of this year, but hard facts have been thin on the ground. However, fans were concerned last year when Easther and Vernie sacked their management, First Avenue, with Kéllé remaining (15th December 1997).
Though Easther and Vernie are already said to be seeking Kéll&eacute's replacement, this latest story has in any case not been wholly confirmed to be true. First Avenue have declined to comment on today's reports, and fans may have to wait much longer before the whole truth emerges.
Questions are also being asked of Eternal's next album, originally scheduled for a release this autumn. In fact, the next album is well under way, but will probably not appear before next March. When it does, it will be interesting to see what role Kéllé plays, if any.
Eternal last faced a change to their line-up back in 1995, when Louise left to persue a solo career.
For more comment & analysis, check out my article on Eternal's future, What now for Easther, Vernie & Kelle?
---
23-Aug-98: OK! - Easther and Shane happily married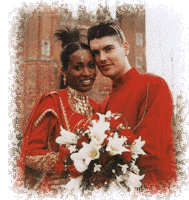 (23rd August 1998): Pictures of Easther Bennett's wedding to Shane Lynch of Boyzone were printed for the first time in OK! magazine last week.
The wedding, already reported on this site (see news, 8th March), reportedly took place at Leighs Priory in Chelmsford, Essex. Easther wore a highly unusual, exquisite Indian style dress, finished with gold embroidery, and which she had designed herself. Shane too was responsible for designing his suit. Not quite sure what that cake's all about though!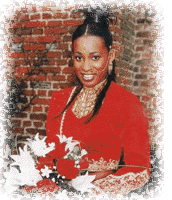 Here is the full story according to OK! magazine:
As the members of Boyzone celebrate their latest single No Matter What reaching number one in the UK charts, Shane Lynch, 22, marks the milestone with his own personal celebration: the release of private photographs of his wedding to Eternal's Easther Bennett - exclusively to OK!. The photos, which have never before been published, capture the privat ceremony which took place at Leighs Priory in Chelmsford, Essex.
Both Easther, 25, and Shane arrived in style at the castle driven by separate gleaming limousines with tinted windows for added privacy. The Eternal singer looked stunning in a red dress designed by Easther herself, with gold embroidery and exquisite tailoring completed by Dax @ Damanis.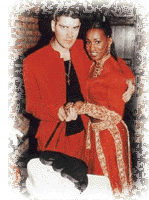 Shane too was responsible for the individual design of his suit. The couple were married by a local registrar in the tower of the castle before Easther's mother held a blessing in the main castle witnessed only by a small number of friends and family and members of their bands, Boyzone and Eternal. A spokeswoman for the Leighs Priory Centre commented: 'It was a very private affair'.
The singers have not had much time to enjoy married life however, as Easther is currently in New York, recording Eternal's fourth album, while Shane is preparing to leave the UK for a tour of North America with Boyzone this week.
Thanks to Paul Scarth & Amir Hussan for supplying me with pics! (See the pictures section for the complete set.)
---
04-Jul-98: Eternal to go live on the 'net
Eternal will be appearing at the Prince's Trust concert in Hyde Park, London this Sunday (July 5th). In a line-up which also includes Louise, the girls will appear before 100,000 pop fans, though it's not known how many songs they'll perform.
Capital FM will be covering the event live on the web at the Party In The Park section of their site.
---
26-Mar-98: Rumours of a split spiral out of control
Rumours that Eternal may be on the verge of splitting up, with Kéllé allegedly having fallen out with the other two members of the group, reached new heights today with a story printed in UK tabloid The Sun.
Doubts were raised over Eternal's future when sisters Easther and Vernie quit First Avenue Management last December, but proved to be unfounded. Now it seems rumours have re-ignited after Kéllé reportedly declined to attend Easther's wedding with Boyzone singer, Shane Lynch earlier this month.
The truth of the matter is, Eternal have not split up, and nor are they about to. Work is already underway on their new album, due for release later this year, while at the same time the girls continue to promote their Greatest Hits album throughout Europe.
UNRELIABLE
Press reports of the alleged rift between Kéllé and the other two have literally spread out of control, in a kind of 'snowball effect'. Stories printed in one tabloid paper have been used as the basis for reports on countless radio stations around the UK and finally picked up on by The Sun today.
The Sun's report contains little which could be considered original, relevant, factually valid, thoroughly researched or even newsworthy at all. The highly unreliable report instead cites similar gossip by saying "Easther and Vernie are said to be barely on speaking terms with fellow singer Kéllé Bryan" (my emphasis).
The report goes on to quote an "Eternal insider", who of course is not named, and may well not even exist, as saying Eternal's "working relationship has broken down". Finally the report attempts to add weight to its claims by concluding "Louise left the group in 1995 following bust-ups with the Bennett sisters".
Of course, Eternal fans have long since known the above to be completely untrue, so it seems unlikely that many would believe these stories about Eternal's alleged split.
Eternal are due to appear on Dutch music TV channel TMF's awards ceremony on 4th April, where they have been nominated for Best Foreign R&B Act.
---
08-Mar-98: Easther finds eternal love
The POAW site has always been dedicated to Eternal's music rather than their personal lives... but wow, when Easther Bennett goes ahead and gets hitched with Boyzone's very own Shane Lynch, we can hardly ignore that!
The wedding, which took place today, has now been reported by several reliable UK news sources. For example on BBC's Ceefax service it said "Shane, 21, and Eternal star Easther, 24, were wed at a top secret ceremony at the exclusive Leighs Priory centre near Chelmsford, Essex." The story has also been reported by major UK news agency, PA News.
From chatting with fans of both Eternal and Boyzone, this one message prevails: We're very happy for them both! Congratulations, Easther & Shane!
---
08-Mar-98: Out and about in Europe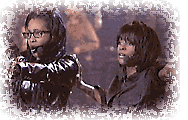 Aside from preparing to record their new album, Eternal have been out and about in Europe promoting their Greatest Hits album. They're really huge in Spain at the moment, having recently topped the Spanish charts with Angel Of Mine, and pictured here performing on Spanish TV show 'Música Sí' (around the 20th February or so).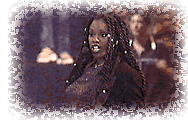 On February 21st they were on radio programmes 'Del 40 al 1' and 'La ruta del Aguilar'. Also they appeared on TV shows such as 'La llamada de la suerte' and 'Risas y estrellas' performing Don't You Love Me. Thanks to Sara Doménech for the info & pictures!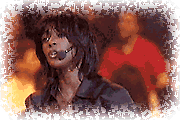 The girls are due to visit Holland next - on Saturday 4th April they will appear at the TMF Awards (TMF is The Music Factory, Dutch equivalent of MTV). Thanks to Oscar van Duijn for that info.
Do you know details of any other Eternal forthcoming appearances or wherabouts? If so, please send me an e-mail!
---
23-Feb-98: No news is good news
Things are extremely quiet on the Eternal scene at the moment. Fans are starting to wonder, have they dropped off the face of the planet? Have the Spice Girls and All Saints taken over the world of pop?
No! The reason there seems to be little Eternal action at the moment is that the girs are actually hard at work preparing their next album (that's not to say they're not normally hard at work!) Expect to see the first single from that later in the year, and there's a possibility (not confirmed) of another tour.
---
09-Feb-98: No win for Eternal
Eternal had a disappointing night as the results for the Brit Awards 1998 were unveiled. Sadly, they failed to win in the Best Dance Act category, which was taken by the Prodigy (recently in the charts with the controversial 'Smack My Bitch Up')
Eternal also failed to make an impression for Best Single, which was taken by All Saints' 'Never Ever'. Kéllé was there on the night, and in an interview on BBC Radio 1FM, she said "I just wanted to be here to see the vibe, and watch people play live" and she also told 1FM listners that she was hoping Finly Quay would win an award.
---
16-Jan-98: 'Might As Well Be Me' is dropped
EMI have confirmed they have no plans to release 'Might As Well Be Me' as a single in the forseeable future. Hopes of a single release for the track, otherwise only available on the Greatest Hits album, were raised when radio stations began playing an edited version of the song.
---
12-Jan-98: Two nominations for Brits Awards '98
Eternal have received two nominations for the Brits Awards 1998, it was announced today. The girls are up against stiff competition in the Best UK Single category, for which nominations also include Elton John's 'Candle In The Wind', The Verve with 'Bittersweet Symphony' and current chart-topper, All Saints' 'Never Ever'.
Meanwhile, Eternal have also been nominated for Best Dance Act, an award which they would seem unlikely to win given that dance is only a small part of the broad musical spectrum Eternal represents.
Although not fortunate enough to have ever won any Brits awards, Eternal have picked up several nominations in the past, beginning in 1995 when they were nominated for Best Newcomer, Best Group, Best Dance Act and Best Album (Always & Forever). In 1996 they were also nominated for the Best Dance Act category.
The Brits Awards is due to take place on Monday, February 9th at the London Docklands Arena. It will be televised in the UK the following night, and like previous years, the show will also be aired in dozens of other countries.
---
22-Dec-97: EMI: "Business as usual"
Eternal's record label, EMI, have announced that work on their next album is already under way. The announcement follows a surprise decision by Easther & Vernie to leave 1st Avenue Management, and is intended to allay fears that Eternal might split up.
Speculation that the girls might not stay together mounted as it became apparent that Kéllé is to stay with 1st Avenue, creating an unusual, perhaps difficult, situation where Eternal effectively have two separate managers. This latest announcement from EMI should help to quell any fears that a split was intended, or indeed is likely. (Source: Music Week).
---
21-Dec-97: Might as well be their next single?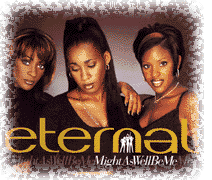 'Might As Well Be Me', the final track from Eternal's Greatest Hits album, has been remixed for radio airplay, but its release, possibly in January, has yet to be confirmed.
The girls performed this outstanding track on the UK's National Lottery show last week (13th December). If it were issued as a single, the song would only be their second self-penned UK hit to date. So Good was written by all four original members of the group, while 'Might As Well Be Me' is the result of a collaboration between Easther and her brother, Derek.
---
15-Dec-97: Easther & Vernie split from 1st Avenue
According to a report in Music Week, Easther and Vernie announced on Friday 12th December that they had sacked 1st Avenue Management. However, Kéllé is to remain with 1st Avenue. The group's career started when they were discovered by 1st Avenue managing director Denis Ingoldsby, and all their releases from their 1993 debut onwards have been issued on the joint EMI/1st Avenue label.
Oliver Smallman, joint managing director of 1st Avenue, says Eternal are not going to split up. However, Easther and Vernie's split from their management while Kéllé remains with the company does raise questions about the future of the group. Eternal released a Greatest Hits album through EMI this year, at the same time as signing a new worldwide music publishing deal with Warner Chappell. Meanwhile their career in the USA is still uncertain after the closure of EMI's USA division.