Introducing the girls...

#Eternal20 This version of the Eternal site was maintained when Eternal were a trio, which explains why Louise is not featured so prominently.
As you can see, this section has not been updated for a while. ;)
Individual & talented
That's the best way to describe the members of Eternal, the hottest girl-group to have emerged in the '90's! They're all exceptionally good singers, and yet equally at home on stage.
In the early days there was a fourth member, Louise Nurding, who left the group in July 1995 to pursue a successful solo career.
Eternal come from Croydon, just south of London. Now aged between 22 and 26, they were discovered five years ago, and signed to First Avenue Management Company (who also manage Judy Cheeks, Dina Carroll, Michelle Gayle and the West End remix team).
Their career got off to a great start when their debut single, "Stay" was released in the UK by EMI and quickly climbed to No.4 in the charts. Their debut album "Always and Forever" followed, and spawned international success for the girls on a phenomenal scale.
---
Always And Forever More... The Eternal Story
#Eternal20 "present day" here is actually circa 1997 ;)
An overview of Eternal's career, written by Lars Janssen & Lisa Blanco. It charts their success in roughly chronological order from the time the group was formed, right up to the present day.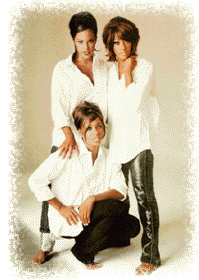 Part 1: The Beginnings Of An Eternity