Vernie's Eternal page
#Eternal20 This biography was written a long time ago and doesn't cite most of its sources.
I would welcome any corrections or insight so that I can improve it.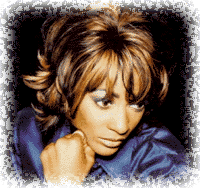 Vernie 'the shy one' Bennett is sometimes overshadowed by her sister, Easther. Some might miss the fact that she too has a wonderful voice, one slightly softer than that of her sister. It's Vernie who can predominantly be heard on Eternal's gospel tunes, and she usually sings live on tour.
Behind the scenes, Vernie is the one responsible for the harmony arrangement. She has also bought some recording equipment and has expressed a desire to write and produce some of Eternal's songs.
With her loveable personality and intelligent attitude to the music industry, Vernie is surely destined to go far.
---
Fact File
Full name:
Vernie Bennett

Date of birth:
17th May, 1971
Comes from:
Croydon (south of London)
Music:
Likes BeBe Winans, Anita Baker, Jodeci, Luther Vandross and Brian McKnight
Movies:
Likes "The Little Mermaid"
TV programmes:
Likes "The Fresh Prince Of Bel-Air"
Actors/actresss:
Likes Whoopie Goldberg
Food/Drink:
Likes Lemon Meringue, dislikes mushrooms
Other Interests:
Sports - badminton, tennis and rollerblading
Other Info:
It would seem that Vernie's real name is Vernett - that's how it was written on some early promotional material.
Vernie started wearing greeny-hazel contact lenses, but now wears blue ones similar to Easther.
---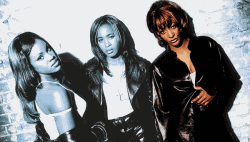 Vernie's greatest "Power Of A Woman"
Vernie has so much going for her, it's hard to pinpoint her biggest asset. Like her sister, she is a very talented singer. Also, Select magazine paid tribute to Vernie's good looks by including her in their "50 most fanciable people in popular entertainment" (March 1995).
Quotes: things Vernie has said
"Even before we met Denis, me and Easther always knew we'd be in this business - that's what we always wanted to do."
- taken from Sky Magazine, March 1995.
"In Europe people stick to their own kind - usually white - that's obvious in the magazines. It's just that black actors and musicians don't get the same opportunities as white people here in Britain."
- taken from TV Hits, December 1994.
---
Since the Eternal days...
Vernie is believed to have finished studying law and gone on to become a practicing lawyer. She is married and has two children.
Despite having an active Twitter account and Facebook page, Vernie keeps a low profile in public life.
---
Vernie online
Although there's no dedicated site, Vernie can be found via the following social network profiles: