Louise's Eternal page
#Eternal20 This biography was written a long time ago and doesn't cite most of its sources.
I would welcome any corrections or insight so that I can improve it.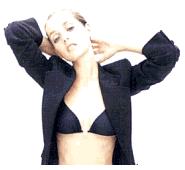 Louise was originally the fourth band member. She went to the Italia Conti school where she became best friends with Kéllé. After being discovered dancing in a night club at 15, she joined Eternal.
Louise became the band's number one pin-up, and her bubbly, friendly nature made here a hit with the fans. Like Kéllé, she proved to be very capable dancer - useful for the numerous TV shows and promotional tours Eternal did as they worked their way to the top.
Constant speculation over her love life overshadowed a very capable singer. In July '95 Louise took the very difficult decision to leave the band and embark on a solo career. Despite rumours to the contrary the split was a very amicable one.
---
Fact File
| | |
| --- | --- |
| Full name: | Louise Redknapp |
| Former name: | Louise Nurding |
| Date of birth: | 4th November, 1974 |
| Comes from: | Surrey (England) |
| Music: | Stevie Wonder, The Brand New Heavies |
| Movies: | Doesn't like Tarantino movies, Seven or Clueless |
| TV programmes: | Likes Absolutely Fabulous |
| Actors/actresss: | Likes Tom Cruise and Demi Moore |
| Food/Drink: | Cereal, apple juice |
| Other Interests: | Keeping fit, spending time with family/friends |
| Other Info: | Louise has two brothers, Joe and Sam. She has a scar on her forehead, which is covered up with make-up in photos. |
---
On leaving Eternal
The following was taken from MTV Text (MTV Europe), just after it was announced that Louise had left Eternal:
Speaking after she dramatically quit Britain's top female band, 20-year-old Nurding says she has been in the studio over the last few weeks recording with Simon Climie.
And she denies having a big bust-up with the three other group members, sisters Easther & Vernie Bennett and Kéllé Bryan. "The girls have been phoning me weekly asking if I'm sure I want to do this. They have been more than courteous saying 'Go for it girl'".
---
Quotes: things Louise has said
"In the black stations, they would talk to Kéllé, Easther and Vernie, but not to me."
- taken from Q Magazine, January 1996.
"There's still times when I'll look over my shoulder in the studio and not see them there and get upset."
- taken from Smash Hits, 13th-26th September 1995.
---
Since the Eternal days...
On leaving Eternal, Louise signed a deal with the same record company and management as Eternal - EMI and First Avenue.
Her solo music career spanned the years 1996-2003, with 12 UK Top 20 singles and three albums: "Naked", "Woman In Me" and "Elbow Beach" (also two greatest hits collections).
In 1998 Louise married the footballer Jamie Redknapp, and changed her surname (although her music was always released as just "Louise" in any case).
Since then Louise has had a varied career including TV presenter, advertising campaigns, and publishing. She appeared in the film "The Hot Potato" (2011) and has even launched a range of beauty products, Wild About Beauty.
---
Louise online
Here are the main sites devoted to Louise.