Kéllé's Eternal page
#Eternal20 This biography was written a long time ago and doesn't cite most of its sources.
I would welcome any corrections or insight so that I can improve it.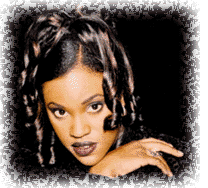 Kéllé is the youngest member of Eternal. Always the playful one, it is Kéllé who most gets involved with the audience during live performances.
She attended the Italia Conti School where she met Louise, and is a professional dancer. Her training often proves useful when it comes to choreographing some of those famous Eternal dance routines. She also writes (and performs) the rap parts for some of Eternal's songs.
Away from showbiz, it is said Kéllé once had a minor problem with her eating. Fortunately, she was helped onto the road to recovery by none other than Jason Orange (ex Take That member). She has also been diagnosed as asthmatic, and yet it seems there's no stopping this energetic young lady. She continually dazzles audiences with her bright personality and energetic dance routines.
---
Fact File
Full name:
Kelle Bryan-Gudgeon

Former name:
Kéllé Bryan

Date of birth:
12th March, 1975

Comes from:
South London

Music:
Likes Bob Marley, Boyz II Men, REM

Movies:
Likes Stargate

Actors/actresss:
Likes Blair Underwood, Denzel Washington, Whoopie Goldberg

Food/Drink:
Likes mineral water

Other Interests:
Sports - swimming, and keeping fit at the gym

Other Info:
Kéllé has a diploma in modern dance.
She has no brothers or sisters. Distinguishing features include three tattoos on various parts of her body!

---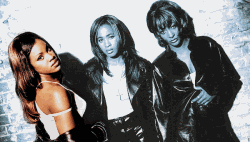 Kéllé's greatest "Power Of A Woman"
Kéllé has a wonderful on-screen and on-stage personality, always smiling and having a laugh. She truly reaches out to the fans during performances, and between shows devotes much of her time to replying to their letters.
Quotes: things Kéllé has said
"My heart told me desperately that I wanted to go with her [Louise] and be a duo, but my head told me I couldn't go through life holding onto somebody's hand."
- taken from Smash Hits, 13th-26th September 1995
"Friends are really important to me, especially true friends, who I can trust. They're rare and I cherish them."
- taken from Top Of The Pops Magazine, Issue #1, March 1995
---
Since the Eternal days...
In 1999 she tried to start a solo career, releasing the single "Higher Than Heaven". This was to be followed by an album, "Breakfast In Bed", but that was never released.
In 2000, Kéllé became a celebrity patron of the Saint Thomas Lupus Trust, following her diagnosis with the disease from which she subsequently recovered.
She formed her own management company, Red Hot Entertainment, and has made a number of television appearances including "Love Island" (ITV), "Me & Mrs Jones" (BBC1) and "Rocket's Island" (CBBC).
Kéllé married Jay Gudgeon in September 2010. In 2011 they had a baby boy, Regan, and in 2013 announced that another child is on the way.
---
Kéllé online
Kéllé has an official site, as well as the usual social networking profiles.