Easther's Eternal page
#Eternal20 This biography was written a long time ago and doesn't cite most of its sources.
I would welcome any corrections or insight so that I can improve it.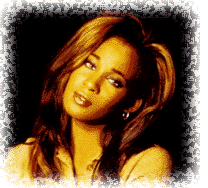 Easther Bennett is behind that amazing voice, familiar to everyone who knows and loves Eternal's uplifting songs. Her breathtaking vocal range lends itself to anything from powerful ballads to funky, upbeat songs. Little wonder, considering Easther's background in music - from her childhood she has been singing in church with her sister, Vernie.
Since Eternal were slimmed down to a threesome, Easther found herself having to adjust to being 'the one in the middle'. Perhaps at times the singer has also been unfairly thought of as the 'difficult one'. She admits to having "a harsh sense of humour", though this all may just be down to the pressures of being the lead singer.
Easther also enjoys going out with her friends, and is currently learning to play the bass guitar. Maybe she'll play on the next Eternal tour?
---
Fact File
| | |
| --- | --- |
| Full name: | Easther Bennett |
| Date of birth: | 11th December, 1972. |
| Comes from: | Croydon (south of London) |
| Music: | Likes soul & gospel (no surprises there!), including Boyz II Men. |
| Movies: | Likes "The Jungle Book" |
| Actors/actresss: | Likes Blair Underwood and Brad Pitt |
| Food/Drink: | Likes hot chocolate |
| Other Interests: | Sports - tennis, possibly others? |
| Other Info: | Since around the release of Eternal's second album, 'Power Of A Woman', Easther has started to wear blue contact lenses! |
---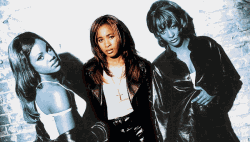 Easther's greatest "Power Of A Woman"
That voice! Easther has been blessed with a special quality, allowing her to convey so much emotion and feeling in her songs. There's no adequate way to describe it, but I am sure it has an effect on all of us.
Quotes: things said about Easther
"Over the next few years, if Eternal do not stay the distance, I can guarantee that Easther Bennett will. What a voice - she ranks alongside Britain's best."
- Mark Sykes, Blues & Soul magazine, November 1994.
Quotes: things Easther has said
"Yeah, Louise looked good, but if someone fancied her more, so what? She is good looking. I don't think you should ever be jealous of another person, if you're close you should feel good for them."
- taken from Smash Hits magazine, September 1995.
"I thought about tidying my room. I didn't, but it's the thought that counts!"
- taken from "One Month In The Life Of Eternal", Top Of The Pops Magazine, March 1995.
---
Since the Eternal days...
In 2002, Easther started making moves towards a solo career and debut album. She recorded a cover of Roberta Flack's "First Time Ever I Saw Your Face", which was only released on a compilation CD "The Love Album 2003". The inlay for this release attributes ownership of this recording to Upside Management.
Also in 2002, Easther teamed up with Aswad, releasing the single "Shy Guy".
Although in 2008 "First Time Ever I Saw Your Face" was given an MP3 release, Easther has mostly disappeared from the public eye.
---
Easther online
There is currently just the one link for Easther: