Comment & Analysis
#Eternal20 This article was written without any knowledge of Eternal's split at the time.
It has since been published in the press (e.g. Q, October 1999) that Kéllé had ceased to be a member of the group a few months previously, in August 1998.
Easther and Vernie went on to record one more album as Eternal.
What now for Easther, Vernie & Kéllé?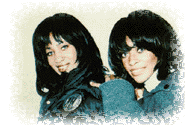 Five years into their astoundingly successful chart career, doubts have been raised about Eternal's future. If British tabloid The Sun is to be believed, Kéllé has fallen out with the other two members of the group, and been 'sacked'.
As maintainer of the Power Of A Woman site, I try to only divulge genuine, reliable news about Eternal. For the last year, things have been unusually quiet where our girls are concerned, and I find myself unable to prove or disprove The Sun's story. Fans are left speculating about the future of their idols, while trying hard to ignore the rumours.
My biggest worry is the refusal of First Avenue or EMI Records to deny The Sun's report, which was at least convincing enough to be picked up by sevaral well-known sources such as PA News, MTV and Capital FM. Are they waiting for the right moment to announce a split, or is it simply that they would prefer not to lend any credibility to The Sun's story?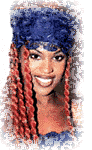 Eternal have faced a change of line-up before. Back in 1995, Louise left to pursue a solo career. Then, the media tried to sensationalise the story by suggesting there were tensions within the previously multi-racial band; as a headline, "Louise in amicable split from Eternal" could not hope to sell many papers!
Three years is a lifetime in the world of pop, and Eternal's profile has changed somewhat. Out of the singles chart for a year, and facing competition from a wave of girl bands such as All Saints and the Honeyz, there is no assurance of launching another successful solo career in the wake of Louise.
Given that a split is probably not desirable to Eternal or their management, and that stories of Kéllé falling out with the Bennett sisters are unlikely to bear any substance, we might consider two possibilities:
The girls have decided to go their separate ways, probably with Easther and Vernie carrying on as Eternal.
The whole affair is complete falsehood, being played along with by Eternal's management for the sake of publicity.
Although the chance that Eternal may split up has worried many of their fans, the general consensus seems more positive now. Most have a great deal of faith in both the group and their management, and do not believe either would leave them in the dark in the event that Kéllé really was about to leave.
Eternal's next album is well underway, and due for release around March 1999. Coming two years after their last album, Before The Rain, it will be interesting to see what direction the girls take. Will it be aimed at the same mainstream audience they attracted with Always & Forever back in 1993, or are they going to leave that territory to the likes of All Saints, in favour of a more gospel/Christian orientated style?
Only one thing is for certain: whatever the outcome, this website will still be around!
- Lars Janssen; 11th November 1998